Description
Pack 12 Mother & Babycat Wet Food for Kittens and Nursing Cats Royal Canin
If your cat is pregnant or has just given birth, it is important that both she and her kittens receive an adequate nutritional intake in order to ensure optimal health of the mother and the best possible start for the kittens.
ROYAL CANIN® Mother & Babycat Mousse has been formulated taking into account the nutritional needs of the mother and her kittens, and is indicated both for females in gestation or lactation periods, and for kittens from 1 to 4 months of age.
Between 4 and 12 weeks after birth, the natural immunity obtained through maternal colostrum (rich in protective antibodies) begins to gradually decrease. ROYAL CANIN® Mother & Babycat Mousse provides a patented complex of antioxidants, including vitamin E, to reinforce the kittens' natural defenses while their immune system is still developing.
Kittens gradually decrease their ability to digest lactose. This, along with other factors, marks the beginning of the weaning phase. To facilitate this weaning and the transition to solid food ROYAL CANIN Mother & Babycat has an ultra-soft mousse texture and has been formulated with the optimal nutritional profile that kittens instinctively prefer.
To adapt to the preferences of each kitten, ROYAL CANIN® Mother & Babycat is also available in dry format, with highly palatable kibble. If you wish to provide your kitten with a mixed diet, follow our feeding guidelines to ensure that it receives the precise amount of both foods and thus take advantage of all their benefits.
At ROYAL CANIN®, we are committed to providing nutritional solutions tailored to your pet's needs. We subject all our products to a thorough quality control process to ensure the optimal properties of the food, as well as to meet the specific nutritional needs and lifestyle of your cat. This means that when you feed ROYAL CANIN® Mother & Babycat Mousse to your cat and her kittens, you are providing them with a complete and balanced diet.
Key benefits/features:
-Easy start of 1st age.
-Instinctively preferred
-Strengthens the immune system
Ingredients
Pack 12 Mother & Babycat Wet Food for Kittens and Nursing Cats Royal Canin
Composition:
Meat and animal by-products, cereals, oils and fats, by-products of vegetable origin, milk and dairy products, mineral substances, yeasts, sugars.
Additives (per kg):
Nutritional additives: Vitamin D3: 130 IU, E1 (Iron): 5 mg, E2 (Iodine): 0.37 mg, E4 (Copper): 3 mg, E5 (Manganese): 1.5 mg, E6 (Zinc): 15 mg.
Analytical components: Crude protein: 10.5% - Crude fat: 5.5% - Crude ash: 1.9% - Crude fiber: 0.9% - Humidity: 79%.
Features
Pack 12 Mother & Babycat Wet Food for Kittens and Nursing Cats Royal Canin
Reference

9003579311660

Brand

Royal Canin

Weight

100 gr, 195 GR

Age

Kitten

Special Cares

Healthy Growth

Format

Can

Pet

Cats

Made in

France

Power

16 W

Product Range

Physiological Royal Canin, Royal Canin FHN Feline Health Nutrition, , , , , Royal Canin Physiological

Manufacturer

Royal Canin,ESP28000439,Royal Canin Ibérica, S.A. PLAZA CARLOS TRIAS BELTRÁN, 4 Madrid 28022 MADRID (ESPAÑA),

Condiciones Nutricionales

Gusto

Cuidados Especiales

Produits Français
Customer Reviews
Pack 12 Mother & Babycat Wet Food for Kittens and Nursing Cats Royal Canin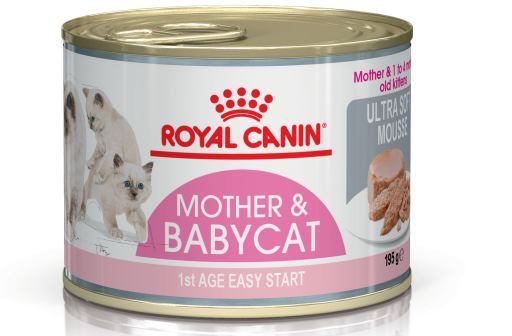 trs apprci par ma chatte et ses chatons