Description
Salmon with Cranberry Wet Dog Food Traveness
Traveness a développé des recettes naturelles d'aliments humides, comme le saumon aux bleuets, dont votre chien appréciera chaque bouchée. Fabriquées à partir d'ingrédients naturels et d'une source unique de protéines animales, ces boîtes sont le complément parfait du régime alimentaire équilibré de votre chien.

AVANTAGES :
- Aide à prévenir les infections des voies urinaires.
- Stimule le transit intestinal et favorise la digestion.
- Stimule la circulation et renforce le système immunitaire.

CARACTÉRISTIQUES :
- Sans céréales
- Les myrtilles contiennent une grande quantité d'antioxydants.
- Acides gras oméga-3 et oméga-6 provenant du poisson
- Sans OGM
- KM 0 ingrédients
Alimentation mixte :
Le mélange d'aliments humides avec les aliments Traveness améliorera l'hydratation de notre animal, grâce à sa forte teneur en humidité (eau). Cela améliorera le fonctionnement des reins et des voies urinaires, prévenant ainsi la formation de pierres et de calculs.
Un régime mixte permet également de réduire l'apport en glucides, car les aliments humides sont moins caloriques et leur appétence augmente, ce qui rend leurs repas beaucoup plus savoureux. Offrez à votre animal une combinaison de nourriture en conserve et humide et laissez-le apprécier la variété des textures, des odeurs et des goûts !
Ingredients
Salmon with Cranberry Wet Dog Food Traveness
COMPOSITION: Fish and fish by-products (salmon, 92%), fruit (cranberries, 4%), minerals, sugars. PRODUCT ANALYSIS: Moisture 80.2%, Crude protein 8.1%, Crude oil and fats 8.4%, Crude ash 2.5%, Crude fibre 0.3%. ADDITIVES: nutritional additives: vitamin A 4000 IU/kg, vitamin D3: cholecalciferol 170 IU/kg, vitamin E 41 mg/kg, iron 1.58mg/kg (iron [II] carbonate 3.29 mg/kg), copper 0.24 mg/kg (copper [II] sulphate pentahydrate 1.0 mg/kg), manganese 5, 25 mg/kg (manganese oxide [II] 7,0 mg/kg), iodine 0,09 mg/kg (potassium iodide 0,127 mg/kg), zinc 6,42 mg/kg (zinc oxide 8,1 mg/kg), selenium 0,0054 mg/kg (sodium selenite 0,012 mg/kg).
Features
Salmon with Cranberry Wet Dog Food Traveness
92% Salmon

Grain Free

Promotes digestion

For adult dogs of all breeds
Reference

8436579244170

Weight

400 GR, 2,4 KG

Physical Activity

Strong, Soft, Average

Nutritional Conditions

Natural

Age

Adult, Senior

Flavor

Fruits, Salmon

Dog Size

Small, Medium, Maxi, Giant

Special Cares

Digestive

Brand

Traveness, Traveness, Traveness

Format

6x400 gr, 400 gr

Formato

,

Product Range

Traveness Wet Adult
Customer Reviews
Salmon with Cranberry Wet Dog Food Traveness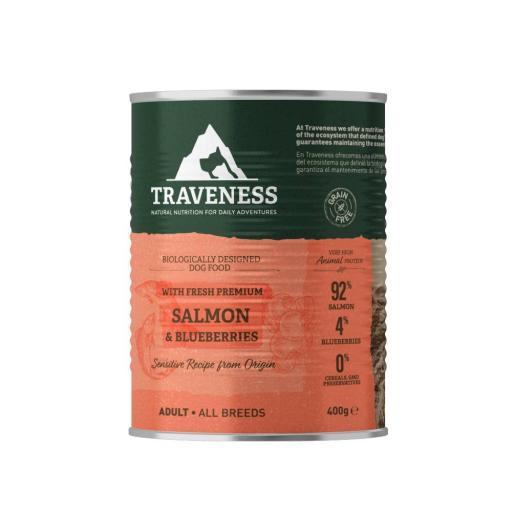 Uma relação preço/qualidade acima da média. Os patudos adoraram. Julgo que a quantidade necessária de comida para uma boa refeição, é a baixo do vosso calculo.
Até a mim me apetecia comer. Tem um cheiro maravilhoso, os cães adoram e aproveitando as promoções fica super barato. Muito melhor que a comida dos hipers, é que nem se compara. Se um dia estiver com fome os meus cães vão ter problemas