Description
Dream Hámster Basic Bunny
-Mealworms:
High-quality supply with animal protein.
-Grain & seeds:
Valuable protein, unsaturated fatty acids & essential amino acids.
-Ideal particle size:
Ideal for hoarding.
Balanced long-life recipe:
All ingredients are important and correctly dosed.
Selected ingredients from the home of hamsters:
Including barley, oats & linseed.
Species-appropriate variety:
Promotes natural behaviour.
Ingredients:
Oats, barley, plata millet, corn, canary seed, barley flakes, pea flakes, wheat, wheat bran, corn flakes, sunflower seed extracted, carrots, oat flakes, rice, silver millet, chicken, lucerne, grass seed, red millet, linseed, parsnips, calcium carbonate, brewer's grain, carrot pomace, beetroot, brewer's yeast, animal fat, dandelion herb, yarrow herb, sesame, herring meal, inulin, sweet pepper, apples, mealworms (0,3%), camomile blossoms, rosehip peel, carob, chicken liver extract, dried whole egg, malva blossoms, salmon oil, linseed oil, lecithin. (grain 54%, seeds 21%).
Additives per kg:
Nutritional additives
Vit. A 6.500 IE ? Vit. D3 510 IE ? Vit. E / all rac-alpha-tocopherylacetate 63 mg ? copper as copper (II)-sulphate, pentahydrate 3,5 mg ? iodine as calcium iodate, hexahydrate 0,5 mg ? iron as iron (II)-sulphate, monohydrat 34 mg ? zinc as zinc oxide 43 mg ? manganese as manganese (II)-oxide 23 mg ? selenite as sodium selenite 0,1 mg
with antioxidant alpha-tocopherol.
Analytical constituents:
crude protein 15% · crude oils and crude fats 6% · crude fibre 7,6% · crude ash 5,5% · calcium 0,5% · phosphorous 0,4%.
Feeding guide:
Fill the bowl with HamsterDream BASIC and wait until all the food has been eaten; only then, refill. Please also check the hamster food store regularly and remove leftover food as necessary. Replenish high-quality bunny hay (e.g. Bunny Protein Hay) and fresh, lukewarm water daily.
Features
Dream Hámster Basic Bunny
Reference

4018761258239

Weight

400 GR

Ingredients

With nuts, With herbs

Format

Mixture

Nutritional Conditions

Natural

Age

Adult

Brand

Bunny

Special Cares

Size

26x14,5x8 cm

Small Animal Type

Hamsters
Customer Reviews
Dream Hámster Basic Bunny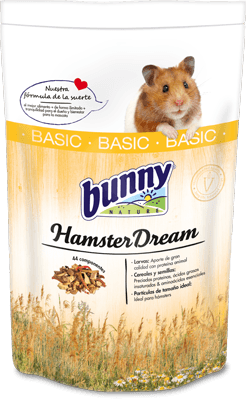 Es un pienso de gran calidad.